Austrocylindropuntia vestita -
Old Man Opuntia My cactus Plants
Austrocylindropuntia vestita
is
a
slender
columnar white and very furry cactus
the flowers will be a beautiful d
eep red or
violet up to 2-2,5cm.
All cactuses here are on sale
Cacti for Sale, Best Prices. Rare and exotic cactus plants for sale. Rare Cactus plants for sale We have desert cactus plants, high quality house cactus plants .

Austrocylindropuntia vestita
Common name(s): include: "Cotton Coral Cactus", "Cotton Pole", "Old Man Opuntia"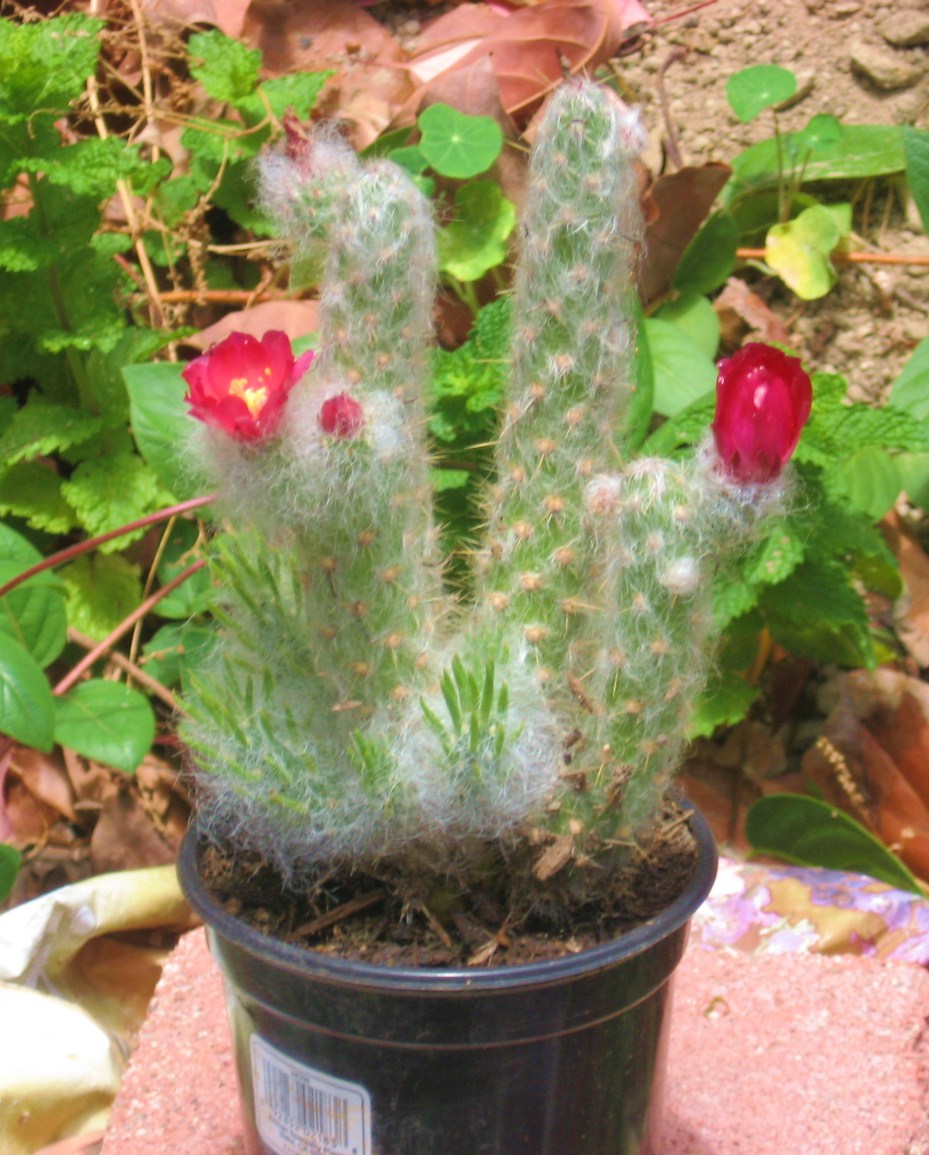 Austrocylindropuntia vestita $4.00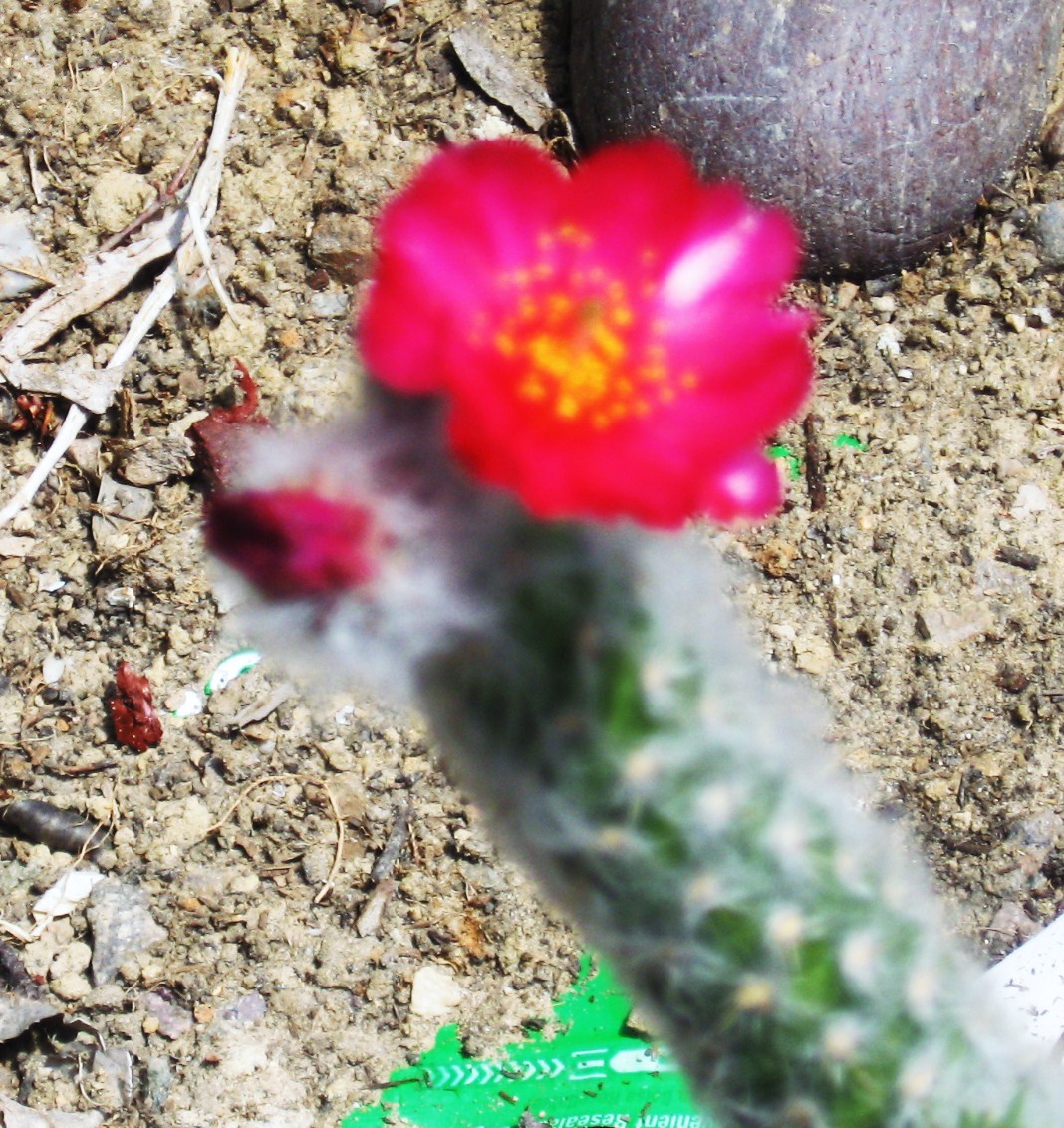 Shrubby cactus; stems not segmented, up to 20 inches long, 1.2 inches in diameter (3 cm); persistent leaves, up to 1.2 inches long (3 cm); hairy areoles with thin long white hairs. Beautiful bright red flowers
$4.00 New Price for Holidays only $3.40.

Out of stock

Below is detailed description of species Austrocylindropuntia vestita

Scientific Name: Austrocylindropuntia vestita (Salm-Dyck) Backeberg 1939

Common name(s): include: "Cotton Coral Cactus", "Cotton Pole", "Old Man Opuntia"

Origin: Bolivia

Conservastion Status: CITES Appendix II Listed Plant

Etymology: The species name "vestita" refers to the plants' vestments, its clothing of white hairs that turns into dens colonies what appears to be patches of snow remembering the high mountain peaks that surround - on all sides - the habitat of this plant
Recommended Temperature Zone: USDA: 10-11
Description: Austrocylindropuntia vestita It forms slim columns densely cloaked with thin long white hairs. Every one has it, grows and flowers well. It is usually a slender columnar white and very furry cactus from high altitude. The standard plants form branch both basally and near the top of the stems.
A. vestita f. cristata has unsegmented, undulating pads covered with fine white hair. The tube-like grows at the top of the cactus are modified leaves, which remain a good part of the year.
Growth Habits: shrubby cacti Not segmented stems, up to 20 inches long, 1.2 inches in diameter (3 cm), persistent leaves, up to 1.2 inches long (3 cm), hairy areoles, with Numerous fine spines
Stem: Cylindrical 2-3 cm in diameter covered densely with long white hairs. The stems can eventually grow to almost 60 cm tall
Spines: Few thin, up to 1 cm long and white. The plant has also abundant long, fine and rubbery hairs which completely cover the branches.
Flowers: A. vestita is not a reliable bloomer. When flowering finally occurs, the flowers will be a beautiful deep red or violet up to 2-2,5 cm . The hairiness of the pericarpel is mostly as dense as that of the stems, merely the spination remains less. The flowers are developed always at the top of the stems.
Sun Exposure: Full sun
Cultivation: This particular species needs regular watering when soil is dry during the growing seasonis but it is prone to root rot, so prudent watering is necessary. Keep dry in winter. It comes from high altitude and do not like hot, stuffy summers, it is best to put them in airy places with ample airflow. It requires a very drained and mineral potting mix and a full sun or slightly shady exposure. Protect from severe frost.
Min Temperature: 50 ° F (10 ° C)
Frost Tolerance: Light frost only

Propagation Methods: Seeds are seldom available and extremely difficult to germinate. Best reproduced by cutting that produce roots easily. The crested variety, which is more delicate, multiplies more easily using grafting.
Other The genus Austrocylindropuntia comprises eleven species and was created by Curt Backeberg in 1938 for the cylindrical Opuntias of South-America. The cylindrical Opuntias of North-America was instead placed in the genus Cylindropuntia.
Austrocylindropuntia can easily be distinguished from Cylindropuntia: Cylindropuntia spines have papery sheaths, Austrocylindropuntia spines lack them. Austrocylindropuntia have cylindrical stems that grow indeterminately, not like many other Opuntias with stems that grow in a single season. Fresh stems have noticeable leaves that soon fall off. Austrocylindropuntias form low cushions or bushes up to 3 of 5 m. The seeds are different too.