Ferocactus chrysacanthus rare cactus plants. We do domestic and international shipping.
Ferocactus chrysacanthus from my cactus plants for sale. It has a LOT of spines all thick and twisted. It is one of the spiniest of the Ferocacti.
Announce!!!
I created a new page "New offers" only for my customers and people who want to be my cuastomer. In the page you find very good offer for new rare cactus seedling (some of them are rarity).
The prices in this page are 20% to 30% less than on other pages in my website.
"New offers" is protected by password. No one can open it.
If you like to see the offers, send me email to the address: mikglad@cox.net with Subject: "New offer" and I'll email you the Login information. It is not necessary to buy something.
If you want to get a Newsletter ons a month email me with Subject: "All about cacti"
I will renew the page when I have new species for sale. So, time to time you can open the page and see what is on sale.
I will use your email only for answer your questions.
If you do not want more to receive my emails, reply adding to the existing Subject word Unsubscribe.
MyCactusPlants.com San Diego, CA provides Rare and Exotic cactus plants, indoor cactus plants, desert cactus plants. Cacti for landscaping. If you interested where to buy a cactus, buy cactus here. Our cacti have a high quality. We inspect every cactus before realization.
Ferocactus chrysacanthus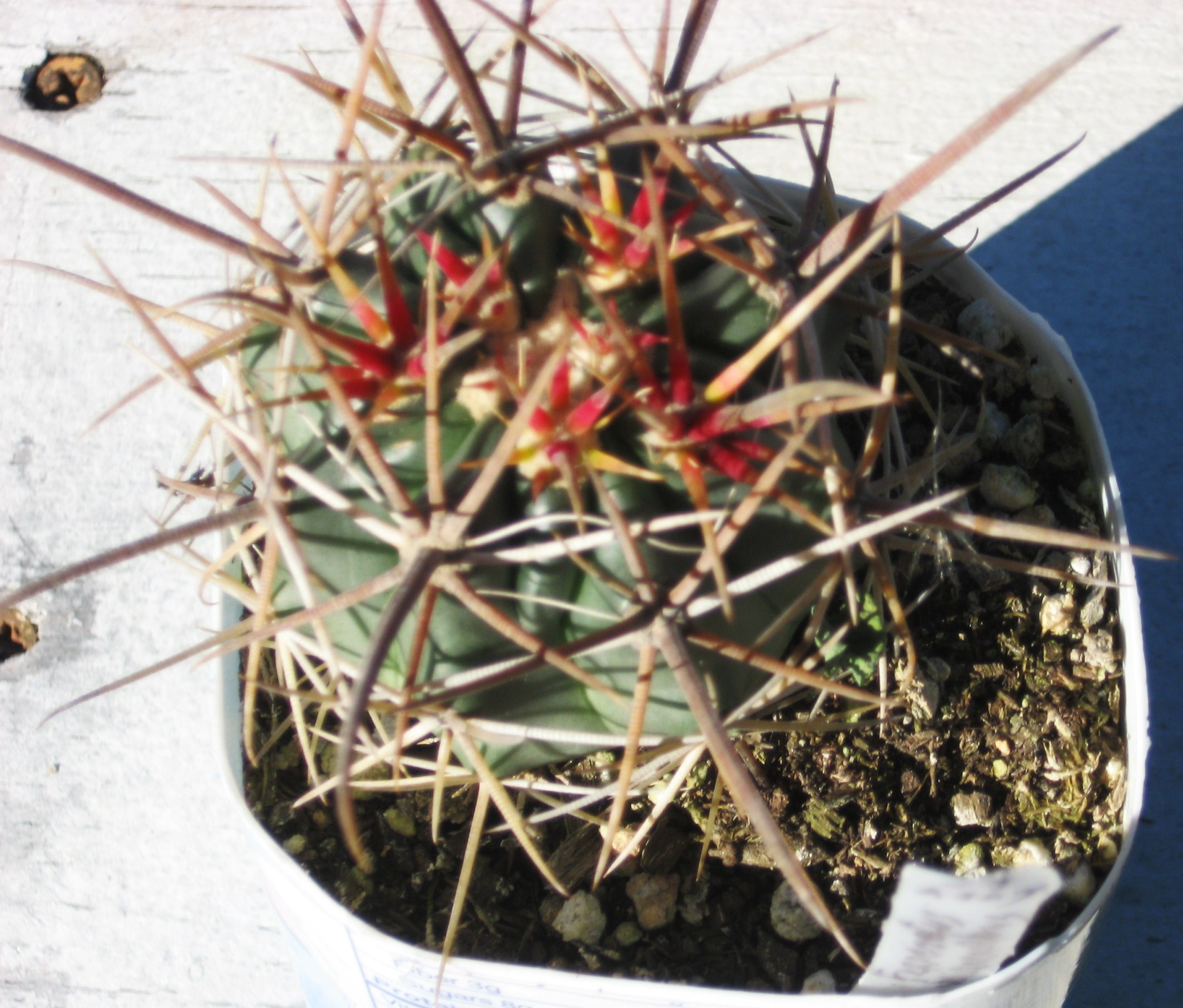 F. chrysacanthus makes a great collector's plant.

Family: Cactaseae
Scientific Name: Ferocactus chrysacanthus (Orcutt) Britton & Rose
Origin: Mexico (Baja California: Cedros Island, San Benito Island) F. chrysacanthus only occurs naturally on the island of Cedros, off the west coast of northern Baja California and possibly on a neighboring island, West San Benitos, with some reports of it on the adjacent peninsula. (www.lithops.net)
Conservation Status: Listed in CITES appendix 2.
Habitat: with a balanced and relatively high average temperature, low rainfall but relatively high humidity and specific soil composition (these conditions are difficult to imitate in cultivation, and make this species relatively problematic to grow.
Description: Solitary barrel cactus. The plant is very densely spined (one of the spiniest of the Ferocacti) and because of that, will tolerate full sun.
Stem: Globose to cylindrical, dark green.
up to 30cm in diameter, 90 cm tall.
Ribs: 13 to 22 ribs
Central spines: 4 to 10 all thick, twisted and more or less hooked golden yellow (it sometimes occurs with red spines)
Radial spines: 4 to 6, white.
Flowers: They are typically yellow or brownish yellow, but also orange, 2.5 cm long, 5 cm in diameter. The inside petals are yellow or orange, the outside ones are brownish.
Blooming season: Summer.
Fruit: Yellow.
Cultivation: It is often recommended to graft young seedlings on Eriocereus jusbertii. But plants can grow on their own roots for ages if watered carefully.
Use very draining soil, water during the aestival growth cycle (this plant need plenty of water) But it's necessary to avoid wetting the bodies of these plants while they are in sunlight. A wet cactus in the sun light can cause sun burning which can lead to scars or even fungal infections and death. Needs full sun. Keep dry at 10°C in winter, but it can tolerate sporadic light frost.
Propagation: Seeds are the only way of reproducing. The seeds germinate readily.