My Cactus Plants provide unusual cactus plants with bright blue color of skin Melocactus azureus Turk's Cap Cactus
We provide unusual and exotic cactus plants with

cactus having different

color of skin grown from seeds for low prices. You find beautiful pictures cactus plants Melocactus azureus Turk's Cap Cactus



Announce!!!
I created a new page "New offers" only for my customers and people who want to be my cuastomer. In the page you find very good offer for new rare cactus seedling (some of them are rarity).
The prices in this page are 20% to 30% less than on other pages in my website.
"New offers" is protected by password. No one can open it.
If you like to see the offers, send me email to the address: mikglad@cox.net with Subject: "New offer" and I'll email you the Login information. It is not necessary to buy something.
If you want to get a Newsletter ons a month email me with Subject: "All about cacti"
I will renew the page when I have new species for sale. So, time to time you can open the page and see what is on sale.
I will use your email only for answer your questions.
If you do not want more to receive my emails, reply adding to the existing Subject word Unsubscribe.
MyCactusPlants.com San Diego, CA provides Rare and Exotic cactus plants, indoor cactus plants, desert cactus plants. Cacti for landscaping. If you interested where to buy a cactus, buy cactus here. Our cacti have a high quality. We inspect every cactus before realization.
Now we have unusual cactus forms: cristata, monstrous forms.

Melocactus azureus
Common Name(s):
Turk's Cap Cactus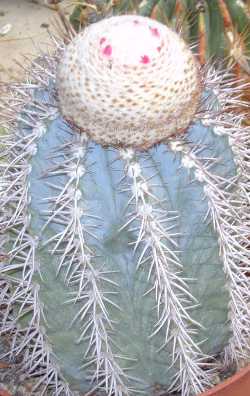 THE PLEASANT LIGHT BLUE COLOR GIVES THIS CACTUS IT'S NAME.
Melocactus azureus Turk's Cap Cactus 5 cm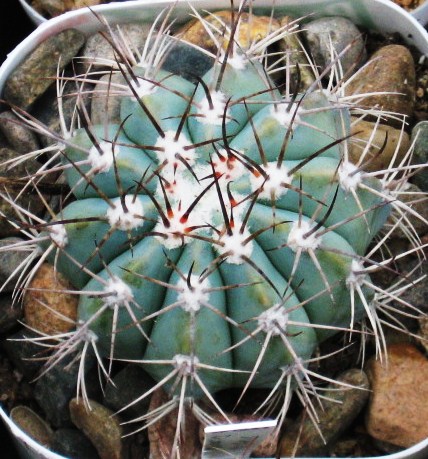 $ 7.00 USD
THE PLEASANT LIGHT BLUE COLOR GIVES THIS CACTUS IT'S NAME
not in stock

Melocactus azureus Turk's Cap Cactus 6 cm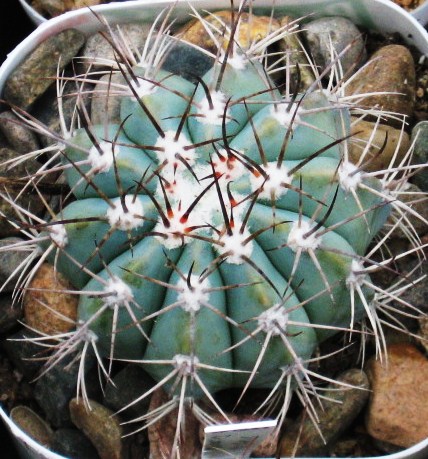 $ 8.50 USD
THE PLEASANT LIGHT BLUE COLOR GIVES THIS CACTUS IT'S NAME
Not in stock
Below there is detailed description of the species Melocactus aureus.
Family: Cactaseae
Scientific Name: Melocactus azureus Buining & Brederoo 1971
Origin: Brazil (Bahia), THIS SLOW-GROWER IS FOUND IN BRAZIL, BAHIA, SERRO DO ESPINHACO ABOVE THE RIO JACARE.
Conservation Status: IUCN Red List vulnerable species, CITES Appendix II Listed Plant
Recommended Temperature Zone: USDA: 10-12
Description: This Melocactus has a very strong blue color, 9 or 10 sharp ribs. The cephalium (woolly top) is mostly white. Solitary, up to 8 inches tall (20 cm), 6 inches in diameter (15 cm). Cephalium diameter 10 centimeters to 3.5 in height. Red flowers
Flowers: Red to pink flowers. Tube-shaped flowers, approx. 15 mm long and 4.5 mm wide
Bloom Time: Mid Summer
Habitat: West Indies, Brazil, Cuba, Peru, Mexico. In their native countries they can be also found growing on the seashore. Northern Rio São Francisco caatinga element: on flat, exposed Bambuí limestone in caatinga at c. 450–750 m. Extent of occurrence is 1,102 km² and area of occupancy is less than 500 km².
Sun Exposure: full sun in the winter, filtered during the hot months.
Water Needs: Regular water in summer, less in winter. Needs good drainage.
Cultivation: Melocactus waits until the body finishes growing before it forms a woolly top, or cephalium. Bristles and small red flowers appear from this cephalium, and cephalium can keep growing for years.
Unlike most cacti, Melocactus needs regular water, even in winter, and should never be allowed to completely dry out. It needs good drainage. Instead of humus rich potting soil, pure quartz gravel can be used instead of soil, or sand from beach. When cephalium begins to grow, it resembles a cap, so this cactus genus is also called the Turk's Cap Cactus.
Exposure to the sun. Watering from April to September every 8-10 days. Winter minimum temperature 2 degrees Celsius. Optimum temperature for seed germination: 20-30 degrees centigrade.
Soil requirements: pH:
6 – 7.8.
7 shares of lapilli or pozzolan; 3 parts leaf mold or peat, 2 parts coarse river sand,
0.6 grams
of gypsum per liter of compost,
6 grams
of fertilizer per liter of base compound
Min Temperature 60°F (15°C)
Frost Tolerance: Keep above 45°F (8°C) at all times
Propagation Methods: Seeds
Seed Collecting: Allow unblemished fruit to ripen; clean and dry seeds
Unblemished fruit must be significantly overripe before harvesting seed; clean and dry seeds
Properly cleaned, seed can be successfully stored