Ferocactus glaucescens Blue Barrel Cactus 4 years seedlings for sale

Ferocactus glaucescens can be a very neat, compact and attractive addition to any collection. This Blue Barrel Cactus can reach up to 22 inches tall (55 cm), 20 inches across (50 cm)

We do domestic and international shipping for LAW PRICES
We have rare and exotic cactus plants for sale
MyCactusPlants.com provide high quolity desert cacus,cacti for lanscaping, indor cactus plants. We inspect every cactus befor shipping.
Ferocactus glaucescens Blue Barrel Cactus
This Ferocactus stands out from the other species. The spines are rather neatly distributed, and the unusual-looking white fruits are unmistakable.
It
can be a very neat, compact and attractive addition to any collection.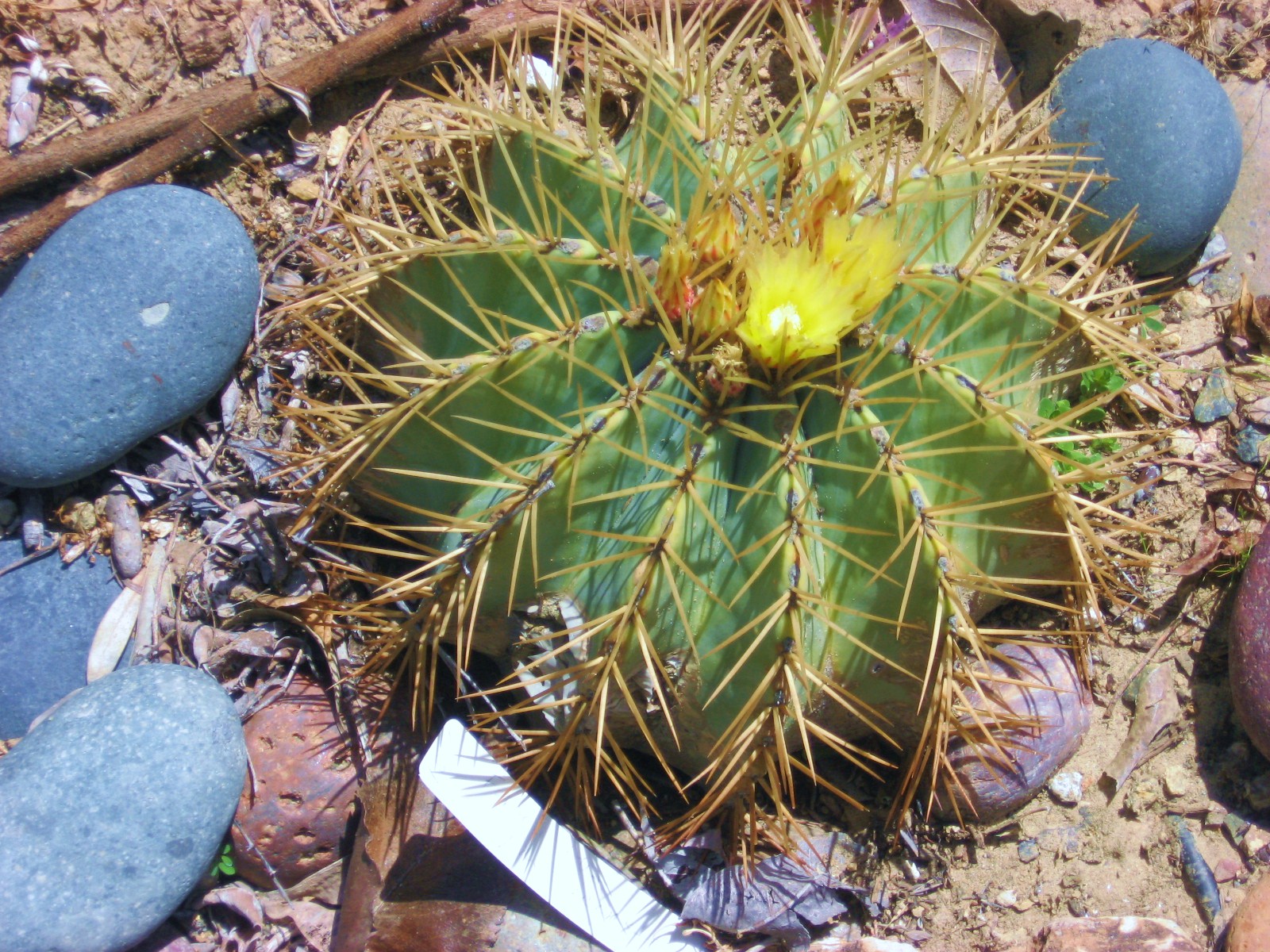 Family: Cactaseae
Scientific Name: Ferocactus glaucescens (DC.) Britton & Rose
Common Name: Blue Barrel Cactus
Origin: Eastern central Mexico, Hidalgo (Meztitlan, Toliman and Jacala)
Habitat: This species is found within the numerous limestone hills and boulders at several locations in the state of Hidalgo, Mexico. It has been noted to favor the more northern slopes, and the plants are well associated with the rocky, juniper woodland community, up to around 1200 m in elevation.
Conservation Status: Listed in CITES appendix 2.
Description: It can be a very neat, compact and attractive addition to any collection. Generally solitary, barrel cactus, bluish green stems up to 22 inches tall (55 cm), 20 inches in diameter (50 cm).
Ribs: 11 to 15 ribs
Spines: Straight white-yellow spines
Central (S): 0 or 1 central spine
Radial (S): 6 or 7 radials, 1 to 1.6 inches long (2.5-4 cm)
Flowers: Lemon yellow, funnel-shaped, 3-4 cm in diameter. The tepals are oblong, lanceolate, silky, shining; the margins are finely fringed. Stamen, style and stigma are yellow. Stigma lobes: 12-15.

Blooming season: Late spring and summer. The flowers last a very long time. The plants start flowering when about 13
cm in diameter.
Fruit: White, 2 cm long with the remnants of the flowers attached.

Cultivation:
Plants are slow growing to start
,
but are easy to grow and require little care once they have reached a nice flowering size. F. glaucescens
is
suited for any rich, well drained soil in full sun
,
t
h
rough
-
out the year. Pot culture:
It
grow
s
best in a fairly roomy, well-drained container filled with a porous cactus soil mixture that doesn't contain too much humus.
To insure robust plants
,
water and fertilize during the aestival growth cycle
. T
his plant need
s
plenty of water (indicatively
,
about once a week)
.
But
it's necessary
to avoid wetting the bodies of these plants while they are in sunlight. A wet cactus in the sun light can cause sun burning which can lead to scars
,
or even fungal infections and death.
In winter keep completely dry at 10°C
.
T
his usually aids in maintaining a healthier plant, but
it
can tolerate sporadic light frost.