All cactuses here are on sale
My Cactus Plants provide Cactus Star Plants for low prices.
Announce!!!
I created a new page "New offers" only for my customers and people who want to be my cuastomer. In the page you find very good offer for new rare cactus seedling (some of them are rarity).
The prices in this page are 20% to 30% less than on other pages in my website.
"New offers" is protected by password. No one can open it.
If you like to see the offers, send me email to the address: mikglad@cox.net with Subject: "New offer" and I'll email you the Login information. It is not necessary to buy something.
If you want to get a Newsletter ons a month email me with Subject: "All about cacti"
I will renew the page when I have new species for sale. So, time to time you can open the page and see what is on sale.
I will use your email only for answer your questions.
If you do not want more to receive my emails, reply adding to the existing Subject word Unsubscribe.

We provide unusual and exotic cactus plants grown from seeds - the Stars of cacti. They are masters in the art of living within plants. Genus Astrophytum consists of only six wild species.
This popular group of cacti consists of only six wild species and maybe a dozen hybrids. These natives to Mexico are suitable for growing in greenhouses, windowsills and outdoors where climates permit. Most of these cacti form short, spherical plants that may or may not have spines. They are usually flecked with small, white scales. In spring to late summer, numerous, large, daisy-like, yellow flowers grow at the plant's crown. Each long-lasting flower opens completely in bright light.
| | | |
| --- | --- | --- |
| | | |
| Astrophytum myryostigma | Astrophytum asterias | Astrophytum ornatum |
Japanese cultivars
Cultivars are obtained by selecting those individuals most original from successive crosses of different varieties of Astrophytum.

But the "secrets" are jealously guarded by Japanese breeders, it is difficult to obtain information on the origins and crosses that gave birth to these little marvels. We have some of them.

The Astrophytum ornatum
Adult plants exceed 1m in height to 25 cm in diameter.
Common English Names: Star cactus , also known as Monk's Hood, ornamented bishop's cap
The Astrophytum ornatum is the largest and easiest to grow and also the fastest of the Astrophytums. Spherical when young to columnar when mature,
some specimen develop nice twists with age.

Ribs have characteristic cross bands of wooly scales. See the picture below.
Ribs have characteristic cross bands of wooly scales. See the picture below.
Buy Astrophytum ornatum Ø6 cm for $6.95. New price $5.00. Out of stock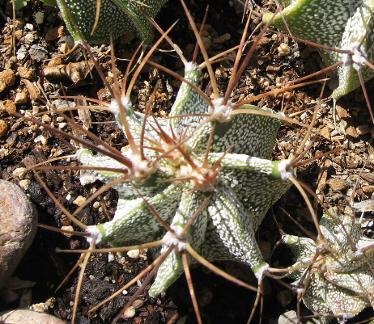 Buy Astrophytum myriostigma

Ø5 cm for $6.00. New price $3.80 Out of stock

Common names: Bishop's Cap Cactus, Bishop's Hat or Bishop's Miter Cactus) is a species of a cactus native to the highlands of northeastern and central Mexico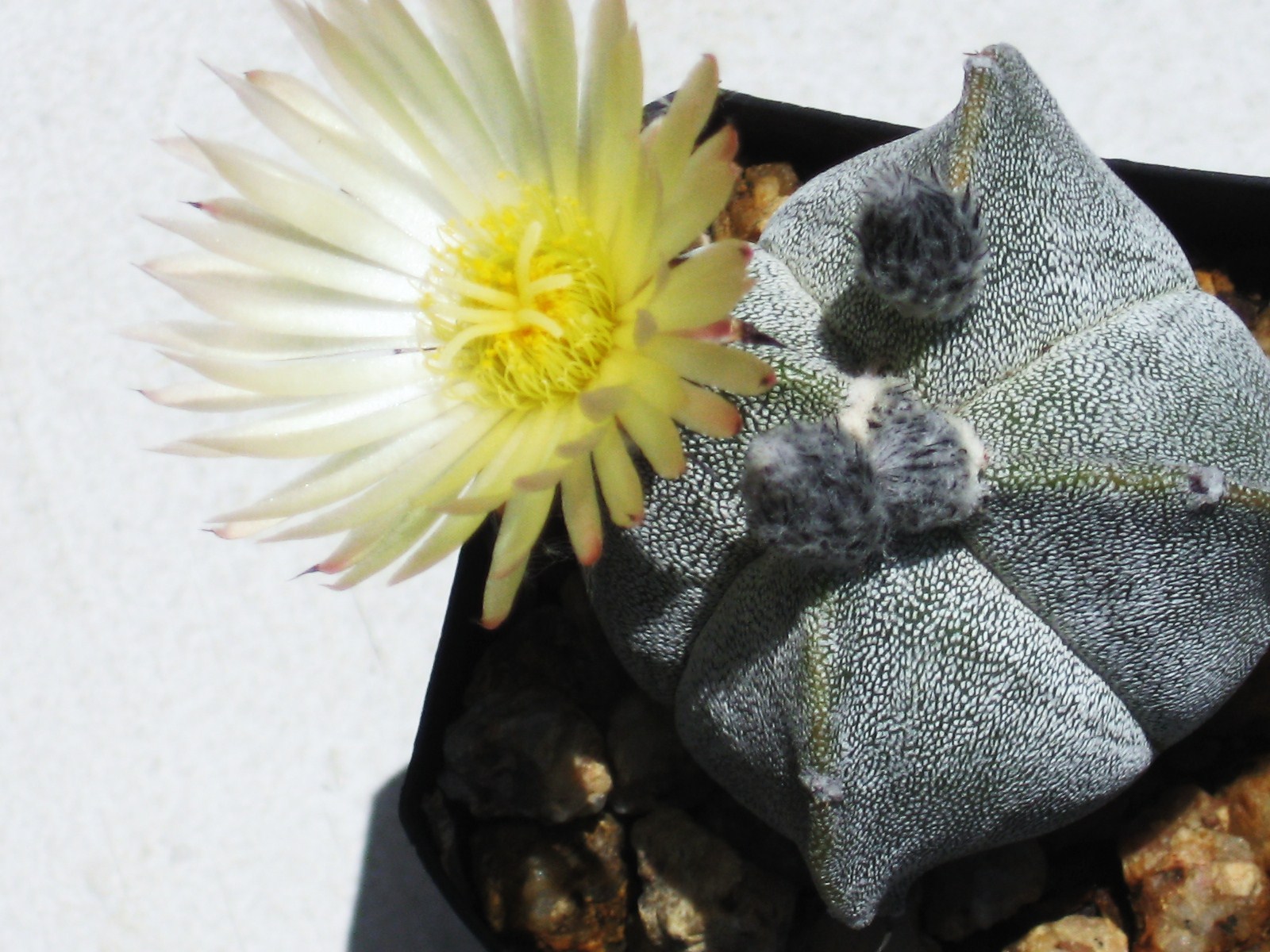 Astrophytum capricorne for sale for $10.00