All cactuses here are on sale. We do domestic and international shipping for low prices
Opuntia brachyclada hybrid High quality Rare cactus plants for sale Buy cactus plant Best Prices
Opuntia brachyclada High quality Rare cactus plants for sale Buy cactus plant Best Prices
Opuntia brachyclada the Beavertail Cactus.
Cacti for Sale, Best Prices. Rare and exotic cactus plants for sale. Rare Cactus plants for sale We have desert cactus plants, indoor cactus plants high quality.
Announce!!!
I created a new page "New offers" only for my customers and people who want to be my cuastomer. In the page you find very good offer for new rare cactus seedling (some of them are rarity).
The prices in this page are 20% to 30% less than on other pages in my website.
"New offers" is protected by password. No one can open it.
If you like to see the offers, send me email to the address: mikglad@cox.net with Subject: "New offer" and I'll email you the Login information. It is not necessary to buy something.
If you want to get a Newsletter ons a month email me with Subject: "All about cacti"
I will renew the page when I have new species for sale. So, time to time you can open the page and see what is on sale.
I will use your email only for answer your questions.
If you do not want more to receive my emails, reply adding to the existing Subject word Unsubscribe.
MyCactusPlants.com San Diego, CA provides Rare and Exotic cactus plants, indoor cactus plants, desert cactus plants. If you interested where to buy a cactus, buy cactus here. Our cacti have a high quality. We inspect every cactus before realization.
To better choosing what cactus to buy, we supply cacti for sale with quality cactus plants pictures.

Opuntia brachyclada hybrid

Common Name(s): Beavertail Cactus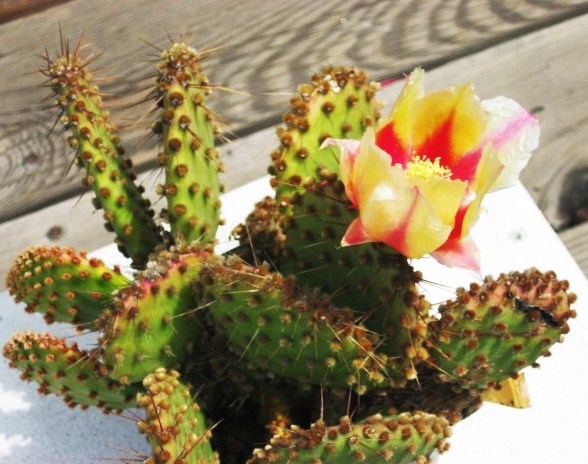 Opuntia brachyclada is a synonim of Opuntia basilaris. It has green pads
It is a smaller prickly pear cactus, and it will often start blooming when it has only two pads. The plant can withstand temperature -15º C ( 5° F).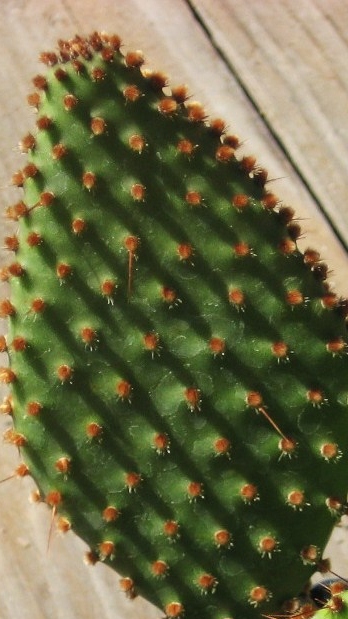 Opuntia brachyclada hybrid not rooted pad
$ 2.00 USD New price $1.50.

Not rooted pads can be planted girectly in soil in the depth of 1/3 of the size of the pad. After 4 to 5 weeks you can see new grows.
Opuntia brachyclada hybrid Rooted pads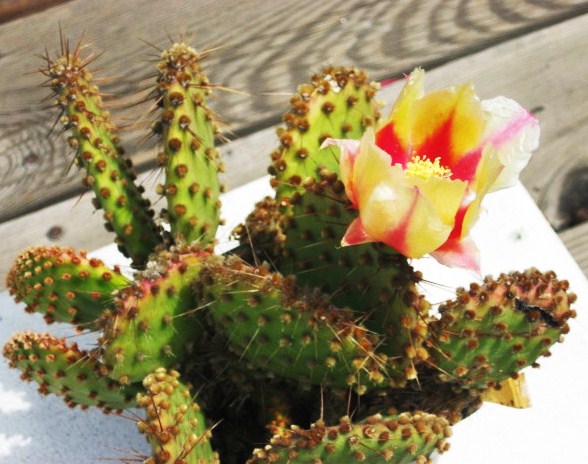 $ 3.50 USD New price $3.00.

Opuntia brachyclada is a synonym of Opuntia basilaris. It has green pads
It is a smaller prickly pear cactus, and it will often start blooming when it has only two pads. The plant can withstand temperature -15º C ( 5° F).
Very good for landscaping as well as for windowsill
Below you can find the detailed description of the species Opuntia brachyclada

Family: Cactaseae
Scientific Name: Opuntia brachyclada
Synonym(s): basilaris var. brachyclada
Common Name(s): Beaver-tail Cactus

Origin: Southwest USA (Arizona, California, Nevada) from 200 to 3000 feet elevation (60 to 900 m), northwestern Mexico (northern Baja California and northern Sonora)
Conservation Status: Listed in CITES Appendix II
It is included in the CNPS Inventory of Rare and Endangered Plants on list1B.2(rare, threatened, or endangered in CA and elsewhere). 7th Edition / 8th Edition
Recommended Temperature Zone: USDA: 7-10
Etymology:
The genus name "Opuntia" refers to a Greek name used by Pliny for a diverse plant which grew in the region of the town of Opus in Greece.

Description:
Succulent to
2 feet
tall (
60 cm
),
4 feet
spread (
1.2 m
); green or slighly purplish segments 3.2 to
5.6 inches
long (8-
14 cm
), 1.6 to
4 inches
wide (4-
10 cm
), glabrous or slightly pubescent; slightly pleated during the dry season; areoles, many with white or brown wool and brownish glochids; occasional spine in the upper areoles, or spineless.
The Beaver-tail Cactus is a smaller prickly pear cactus, and it will often start blooming when it has only two pads. Beware that the glochids (these little barbed bristles organized in clusters) can penetrate the skin.
In the wild, its principal range is limited to the Mojave-Colorado desert
Spines: Usually spineless, if a few spines are present they are confined to the upper rim of the pad.
Areolas: Numerous with white or brown wool (3 mm of diameter), filled with brownish-reddish clustered bristles 3mm long (glochids).
Flowers: The beaver tail cactus has 2.6-3 inches wide (6-7 cm), fuschia colored flowers in March-April. The spineless fruit is dry when ripe. The seeds are 0.24 to 0.4 inch in diameter (6-10 mm)
Fruits: Spineless, globular to obovate 4cm long. Tan grey and dry at maturity, areoles 24–76 usually puberulent. The fruits can be cooked, as well as the pads.
Seeds: Large, rounded, smooth, cream colored, 0.5 to 1cm in diameter
Habitat: Grows in very arid plains and valleys (rainfall mostly in winter from 200 to 500 mm/year) in sandy or rocky soils with a basic pH (Ranges 6 to 8), from sea level to 1300m
Sun Exposure: Full sun
Water Needs: little or no water once established, in its natural distribution area, it receives mostly winter rains.
Cultivation: Best in very fast draining mineral soils this plant is very rot prone, needs little water once established, avoid acid soils rich in humus or clayey. Tolerates sand. Keep dry in winter.
Frost Tolerance: Hardy to -5°: Sun Exposure: They need maximum light exposure in full sun. Avoid shadow. Handle with precautions to avoid the prickly glochids, besides the blue pruina that cover the cladodes may be allergenic for same people.
Soil pH requirements: 6.1 to 7.8
Min Temperature:
Frost Tolerance: Hardy to 0°F (-18°C)
Propagation Methods: From woody stem cuttings Allow cut urface to callous over before planting From seed; direct sow after last frost
Seed Collecting:
Other:
Psychoactivity: Opuntia basilaris is a psychedelic plant containing 0.01% mescaline and 4-hydroxy-3-5-dimethoxyphenethylamine.[1]
Several species from this large Genus Opuntia is used as an add-mixture to ayahuasca by several South American Indian tribes. A common type of Cacti, it grows naturally from Southern Canada, in the North, to the strait of Magellan in the South and has spread through introduction all over the world.